Contact Improvisation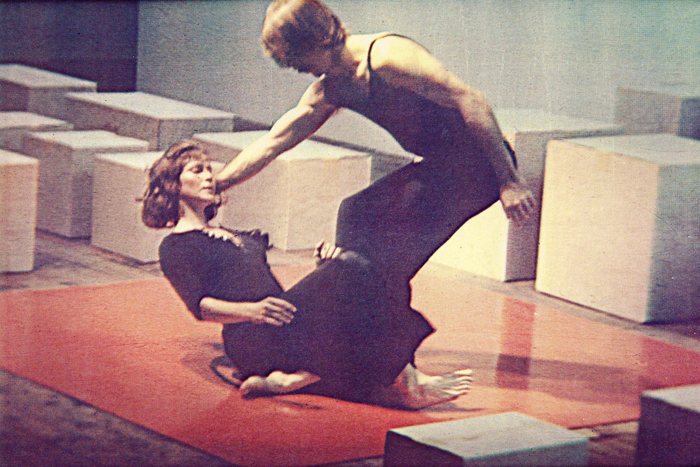 About the work
"Contact Improvisation is a dance process in which two people move in continuous physical contact--like wrestlers, gymnasts, lovers or gibbons...parts of the body give and receive weight as the dancers interact" (from the University Art Museum, Berkeley, CA News Release January 8, 1976.

The home of the Bay Area Contact Coalition was Cat's Paw Palace for the Performing Arts, Berkeley, CA, Cat's Paw sponsored weekly contact jams and regular performances and the popular month-long FOCUS workshops in the summers of 1976 and 1977. The Bay Area had six Contact Improvisation Performance Groups:
Bay Area Dance Coalition: Byron Brown, Ehmroiel, Karen Geiger, Margaret Fisher, Koriel, John Le Fan, Nita Little, Curt Siddall, Nancy Stark Smith, Laurel Sprigg, Jim Tyler, Jerry Zientara; formed, Spring, 1976
Mangrove: Byron Brown, John LeFan, Curt Siddall, Jim Tyler; formed, November, 1975
Metropolitan Quartet: Margaret Fisher, Karen Geiger, Jerry Zientara; formed, Spring, 1976
Reunion: Steve Paxton, Nita Little, Curt Siddall, Nancy Stark Smith; formed, June, 1972
32 ft/sec squared: Nita Little, director; formed, February, 1976
West Wing: a repertory film company and performing ensemble; formed, July 1975
Reviews
"Variations on the Square,"

Janice Ross, Artweek, December 4, 1977.

"Judith Azur, a visual artist, recently presented her

Spaces II

at the La Mamelle Arts Center....In [the] notes Azur explains her desire to 'present the square as a paradigm of our social-spatial conventions...and illustrate our tendency to box things in.'...In the first section of

Spaces II

Fisher and Siddall move around the gallery, negotiating their way between the cardboard boxes and video monitors that clutter the floor. Although...this activity is pretty minimal, it is possible to see links betweeen Fisher and Siddall's carrying and stacking of the boxes, and the black and white images of children playing that appear on the four video monitors at the front of the space....There is a brief interlude of contact improv [on] the tiny red mat (square) provided for them.....Paradoxically, Fisher and Siddall are so strong as performers that they inadvertently divert the force of Azur's work."
Film Clip
Triggering was a collaboration between Nita Little and composer John Adams at SITE Gallery, San Francisco, May 29, 1976.
Information
Director:

Nita Little

Music:

John Adams

Director of Photography:

John Adams

Performers:

Margaret Fisher, John LeFan, Nita Little, Curt Siddall, Ehmroiel

Produced by:

Alan Scarritt/SITE Gallery

Release Date:

unknown

TRT:

unknown

Genres:

American Dance on Film; Contact Improvisation; New American Music