The Insect Dances / Gli Insetti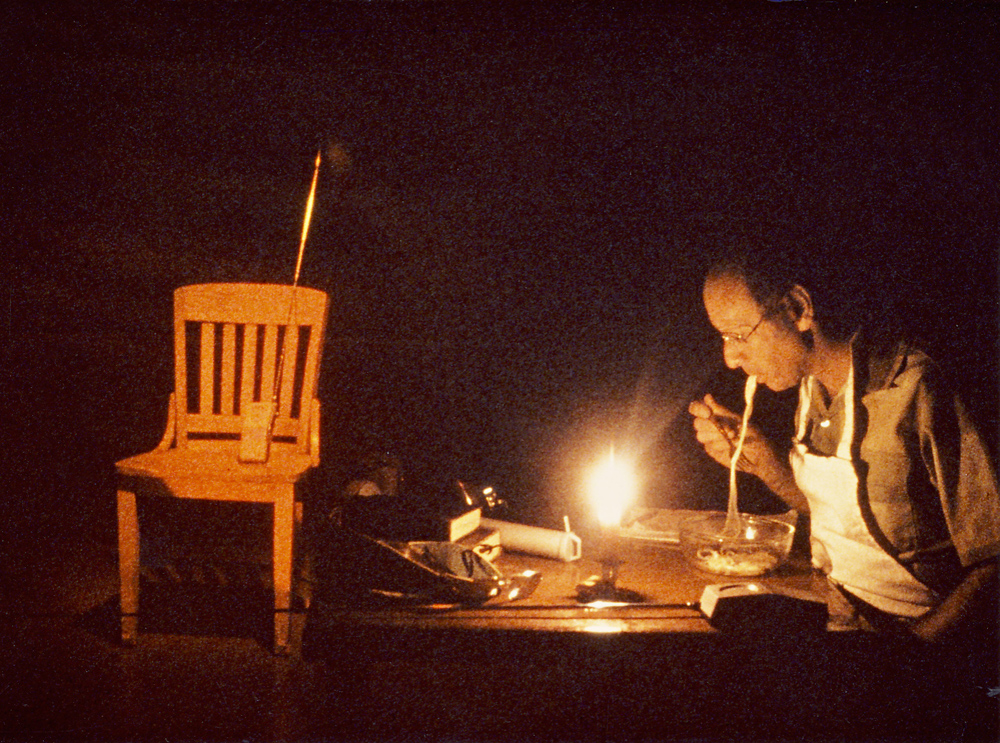 About the work
Gli Insetti (1978) is an intimate thirty-minute dance theater work for two performers, multiple projection screens, and walkie-talkies. Unlike traditional theater, which designs the lighting and environment around the scripted action, the content of Gli Insetti was determined by its scrimmed environment and low level lighting. The sound score consists of feedback from two walkie-talkies which were first employed for their antennae, subject and visual rhyme to the insects. MA FISH CO became known for their performance applications of low-tech hardware such as the old-fashioned slide projectors, flashlights, and walkie-talkies.

The work is based on the writings of the French entomologist Jean Henri Fabri, whose major writings between 1879 and 1907 are published as a ten-volume set under the title Souvenirs entomologiques. The English translations by Alexander Teixeira de Mattos, have placed Fabre's scientific observations within the libraries of precocious children and young adults. Charles Darwin maintained a correspondence with Fabre.

This is the first in the Italian series of performance works, Le Posizioni Veneziane. Companion pieces include Gli Insetti (1980) and Ti Sistemo Io (1983). Gli Insetti was invited to the Venice Biennale in 1980 by the San Francisco Institute of Italian Culture. A fourth work based on the tarantella was realized as a video short The Spider and The Fly.

This work and its companion pieces were unique to the field of interdisciplinary performance art. They were showcased at a diversity of art festivals such as The Ideas Festival (Telluride, Colorado), The San Francisco International Theatre Festival, Mue Danse Festival (Montreal, Canada), and CRT (Center for Research in Theater, Milan, Italy). Detailed information can be downloaded here:
Credits
Choreography:

Margaret Fisher

Sound Design:

Robert Hughes.
Links to Posters
Reviews
"Techno-craft,"

Allen Robertson, The Soho News, August 25, 1981 (link).

"Fisher never rushes anything; she uses time in a quiet, almost languid manner.... Her musical sense is so acute that movement and music become a single, indivisible entity. This is a true blending of media.... Integrating movement, multimedia technology, music and her own poetry, Margaret Fisher's brand of performance art is a seamless, cohesive whole."



"Fisher's collaboration with the composer Robert Hughes...,"

Robert Ashley, composer and Director, Center for Contemporary Music, Mills College, 1980.

"...employs a style of super realism in dance imagery that I have never seen used by another dancer....In the mode of purest dance it passed through moments when this observer felt that he was in the presence of the most authoritative demonstration of the mechanics of insect movement and attitude.."
Performance History
Preview:

MAFISHCO Studios, Emeryville, August 2, 3, 1978

Premiere:

1750 Arch Street, Berkeley, CA, February 3, 1979
The Performance Gallery, San Francisco, CA, March 9, 10, 1979
The Kitchen, New York, NY, April 5, 6, 7, 1979
Arts & Sciences Festival, Telluride, CO, September 15, 1979
San Francisco Conservatory of Music, San Francisco CA, December 14, 1979
La Biennale di Venezia, Teatro L'Avogaria, Venice, Italy, February 15, 1980.
Texas Tech University, Lubbock TX, February, 1980.
Sheldon Jackson College, Sitka AK, June 19, 1980.
San Francisco International Theater Festival, Intersection Theater, San Francisco, CA, July 2-5, 9-12, 1980.
Centro di ricerca per il teatro, Milan, Italy, 1982.
American Theatre Lab, Dance Theatre Workshop, NY, August, 1982.
Tokyo American Center, Tokyo, Japan, 1984.
Mue Danse Festival, Montreal, Canada, March 10, 11, 12, 1989.