Emigré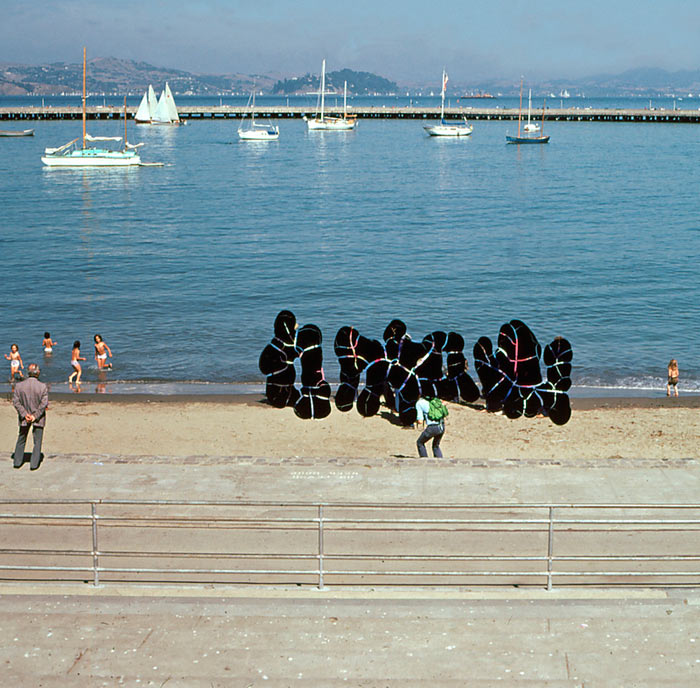 About the work
In reaction to the political upheaval in government (Watergate) and the economic plight of artists in California who were living at a subsistence level, Emigré announced an open call to artists and friends to emigrate from the Bay Area in a two-part happening. On September 28, 1974 participants gathered at Cat's Paw Palace, a new artist-run theatre in Berkeley for experimentation in the arts. The evening's event, "Leavin' Blues," described as "dance/theatre/music/restaurant theatre," prepared performers for the following day's emigration with a celebration of the "natural migrations of living things, as well as the migrations of snow, glaciers, rocks, rivers, hurricanes, wind, clouds, tornadoes, rain, seeds, pollen, sound, breath, dust, tumbleweed, ideas, impulses, planets, comets, meteors, lightening, light" (from the program).

On September 29th, approximately twenty participants gathered at Aquatic Park. They wore clothes appropriate for emigration under duress and were asked to bring to the park a bundle containing only those items they would select if notified on a last-minute basis that they must emigrate immediately. They arrived with baskets, bundles, cages, and old suitcases. The quarter-mile walk from the western to the eastern end of the park proceeded with everyone taking one step every thirty seconds. The time sense was distorted as was the relationship between the 'emigrants' and passers-by, sun-bathers, swimmers, and traffic, all caught in a super-8 film of the same name which condensed the four hours of walking into three minutes of film.

During the walk, Suzanne Hellmuth and Margaret Fisher performed Seatrain, a "natural dance duet," during which Fisher almost drowned when her cotton sleeping bag weighed her down in the water. Images of the event survive as documentation and a revised performance was documented on hand-painted color positive film.


Film/Video Credits
Performance vignettes:

Janet Jacobson, Suzanne Hellmuth, Margaret Fisher

Produced by:

1974, Cat's Paw Palace; and 2017, MAFISHCO

Directed, Edited by:

Margaret Fisher

Director of Photography:

David Heintz

Funding:

Conimicut Foundation, Berkeley.

Genres:

Music Video. Dance Video. Experimental Video.

Original Media:

Super 8

Release date:

2017

TRT:

5 minutes.
Additional Credits
Concept and Direction:

Margaret Fisher

Performers:

Suzanne Hellmuth, Janet Jacobson, Emmett Murray, Gail Simon, Beth Anderson, Jim Nollman, Sybl Chickenmint, Marta Morgan (Chesley), Bruce Hurn, Marcia Bedard, Curt Siddall, and others.

Musicians, 1974:

Experimental Chorus of Musical Arts, Inc., directed by Betty Bronson

Hand painted color positive film:

Margaret Fisher

Support:

Point Foundation, San Francisco Neighborhood Arts Program, The University Art Museum, and California College of Arts and Crafts.