Antebellum Bedlam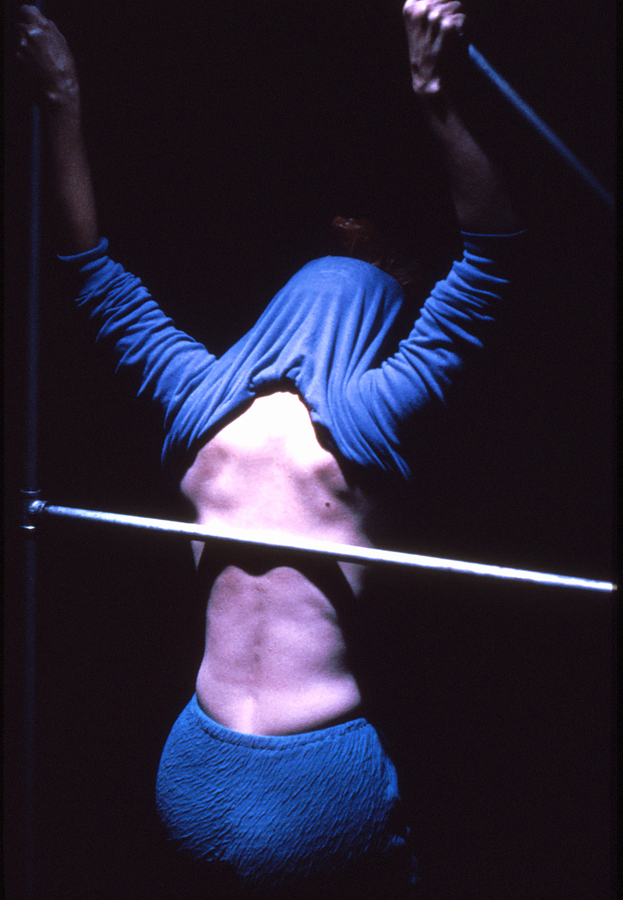 About the work
Antebellum Bedlam takes a tongue-in-cheek look at the General in the debriefing room during the conflict building up to the Korean War. He must cope with a possible world cataclysm while surrounded by the giddiness of the American-Japanese peace. At the center of activity is the hull of an American battleship off the coast of Japan. On the foredeck and bridge, a Multi-Image "Orchestra" of multiple projectors bombard the performance space with cartoon animations and irreverent goings-on to depict a Japan that prefers American prosperity to the return to war culture. Meanwhile, the debriefing of war prisoners in the War Room leads MacArthur toward a strategy to conquer Chinese troops in North Korea, and possibly China itself. Technical gizmos include a fleet of puppet ships sailing through air and a motorized rowboat taking a terrorist to the ship's prow.
Antebellum Bedlam was commissioned by Kala Institute for their Seeing Time Festival of Performance Art, and was staged in their atelier studios in Berkeley. This performance featured the first appearance of Doug Baird's Multi-Image Orchestra--in the 1980s, slide projectors were the high tech solution for the projected image. MAFISHCO purchased all manner of antique projectors from the flea markets which the technical crew fitted out with rotation tables, rotating discs, cones, film strips and color wheels.
Antebellum Bedlam elicited the full spectrum of responses, and tried the patience of many, as is seen in the reviews below and the never-written review from a reviewer for High Performance who left at intermission.
Credits
Choreography, Direction:

Margaret Fisher

Assistant Choreographer:

Marla Carlson

Music:

Robert Hughes

Lighting:

Jim Quinn

Set Design:

Jerry Carniglia, Mara Lee Corter, Michael Bush

Projection transport systems, low tech gizmos:

Doug Baird, Dominica Kriz, Toyoji Tomita, Michael Bush

Performers:

Marla Carlson, Bob Hughes, Dominica Kriz, Toyoji Tomita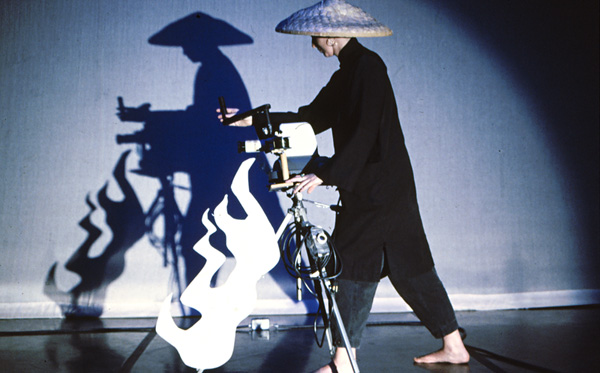 Dominica Kriz of the Multi-Image Orchestra. Photo credit Jody Gillerman.
Performance History
Kala Institute, Seeing Time Festival, Berkeley, CA, July 31, August 1-3, 1985
Video Screening of Antebellum Bedlam, Pro Arts Gallery, Oakland, CA, January 19, 1986
MoMing Arts Center, Chicago, IL, February 27-28, March 1-2, 1986