War Nerves (The Constant Movement of Arms)
War Nerves from Ag Nature.

Above: Janet Jaffe dances "Accordian," Part 1 of War
Nerves, 1983. Video by Frank Wing.

next video



About the work
War Nerves, in two parts, "Accordian" (1983) and "Canto 45" (1985), puts Ezra Pound's support for Mussolini's economic programs on the stage to set the tone for the larger work Against Nature, in which this dance was later incorporated as "War Nerves (The Constant Movement of Arms)." Choreography for the second part "Canto 45" employs a combination of American and Italian Sign Language. Words such as "usury" and "paradise" were not part of the everyday vocabulary of American Sign Language but were common in Italian Sign Language. Part 2 was accompanied by a puppet play with the commedia dell'arte figure of Pulcinella attempting to put himself back together again (like Humpty Dumpty), accompanied by the voice of Benito Mussolini. The song's serious content and catastrophic consequences are at odds with its musical setting as a children's song. The idea arose from the controversial post WWII interpretation of Ring Around the Rosie, a children's nursery rhyme that was linked back to the Great Plague of England in 1665. Pound's 1936 canto, written on the heels of the Depression, sounds the alarm that the tyranny of the economy is the primary determinant of culture, politics, and morals.

Though considered a part of Pound's production with Fascist and anti-Semitic overtones, the canto was chosen for inclusion by the artists because of its central premise that usury undermines a society's well-being. The artists, rejecting the linking of usury to Judaism, point to usury as a problematic pillar of American capitalism. The canto's first line, "With usura hath no man a house of good stone," maintains traction in the 21st century; anticipates the 2008 bank foreclosures of homes in the U.S. and homelessness. An excerpt of the musical setting of the canto can be heard below in the audio example.
Credits
Choreography:

Margaret Fisher

Music:

Robert Hughes

Performers:

Janet Jaffe (1983, 1986), Margaret Fisher (1983, 1986, 1989), Melinda MGee (1985), Marla Carlson (1985, 1986),

Camera, Lighting:

Frank Wing

Set Design:

Jerry Carniglia (1985)

Costume:

Jacqueline Humbert (1985)

Puppets:

Michael Bush

Projection systems and gizmos:

Toyoji Tomita

Projectionist and puppeteers:

Toyoji Tomita, Julius Webster (1985), Domenica Kriz (1987)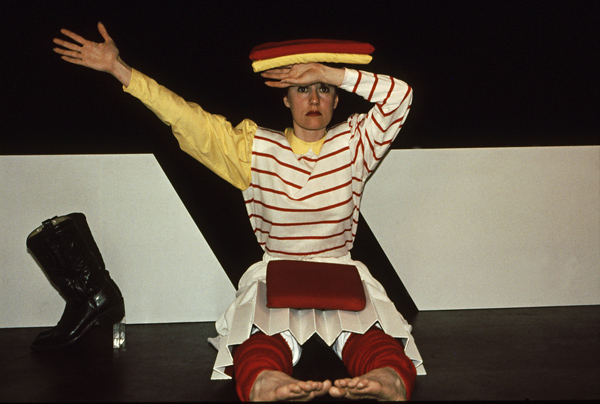 Melinda McGee dances "War Nerves" at Dance Theatre Workshop, NYC, 1985.

Reviews
"Limited Space cramps Fisher's exhilarating style,"

Janice Ross, The Tribune, August 10, 1985

"Fisher, the second artist in Kala's summer performance series [Seeing Time Festival], creates mesmerizing theater works – dense layerings of stories, visions and subplots.... Over the last several years, as Fisher has grown as an artist, her theatrical images have increased in complexity and depth. Both "AG Nature" and "Antebellum Bedlam" entail rich mixtures of surrealist sets, props and symbolic costumes, Robert Hughes' pulsating music and Fisher's own witty and idiosyncratic choreography."



"Multicultural Mystifications,"

Anthony Reveaux, Artweek, August 24, 1985.

"The first piece [at Kala's Seeing Time Festival] was War Nerves, featuring Marla Carlson's precise and delicate charm—part robot, part Japanese doll. With legs twittering, she moved her arms in a semaphorelike calligraphy while her head movements were articulated by a square mortarboard hat. Jacqueline Humbert's costume included a red-ribbed apron that Carlson opened and closed with seemly grace.... Those bilingual, signage-fluent members of the audience who have traveled in the high cantos might have been able to read the code. For the rest of us, there was no way we could know what meaning was intended. No matter; as with opera, it is the form that endures, and as visual theater, War Nerves succeeded."



"Margaret Fisher in Three Pieces,"

Wynne Delacoma, The Chicago Sun-Times, March 1, 1986.

"It may be one of the stranger evenings you've spent in the theater. But anyone hungry for highly crafted art should head over to MoMing Dance & Arts Center tonight or tomorrow. Thanks to MoMing's membership in the National Performance Network, California-based Ma Fish Co is in town. Thursday's performance was a glimpse at a surreal universe too seldom glimpsed in Chicago's mainstream theaters."

"In 'War Nerves' from 'Ag Nature,' Marla Carlson, model-beautiful, wearing a red-and-yellow foam mortarboard hat sat on the floor amid flickering TV sets. Starting very slowly, she eventually worked herself into an arm-whirling, torso-twisting frenzy."
Audio
Ezra Pound reading from Canto 45. Caedmon Records, recorded in Washington, D.C., June, 1958. more at pennsound...
Performance History
Preview:

Lake Placid Center for the Arts, Lake Placid, NY, May 21, 1983.

Premiere:

Tokyo American Center, Tokyo, Japan, October 7, 1983.
General Electronics Systems, Inc (GESI), Berkeley, CA, February 28, 1985.

Premiere:

American Theatre Lab / Dance Theatre Workshop, NY, March 14-15, 1985.
Kala Institute's "Seeing Time Festival," Berkeley, CA, August 1-3, 8-10, 1985.
MoMing Art Center, Chicago, IL, February 27-28, March 1-2, 1986.
NEOFEST Performance Art Festival, La Jolla Museum of Contemporary Art, La Jolla, CA, June 14, 1986.
Center for the Performing Arts, University of California, Davis, CA, February 15, 1987.
Teatro L'Avogaria, Venice, Italy, March 3, 1989.
Mue Danse Festival, Musee de L'Art Contemporain, Montreal, Canada, March 10-12, 1989.

Video Screening:

Image Forum, Tokyo, Japan, 1984

16mm Film:

"Under the Bull's Eye," produced by International Performance Network and MAFISHCO, 1987.