Liquid Movie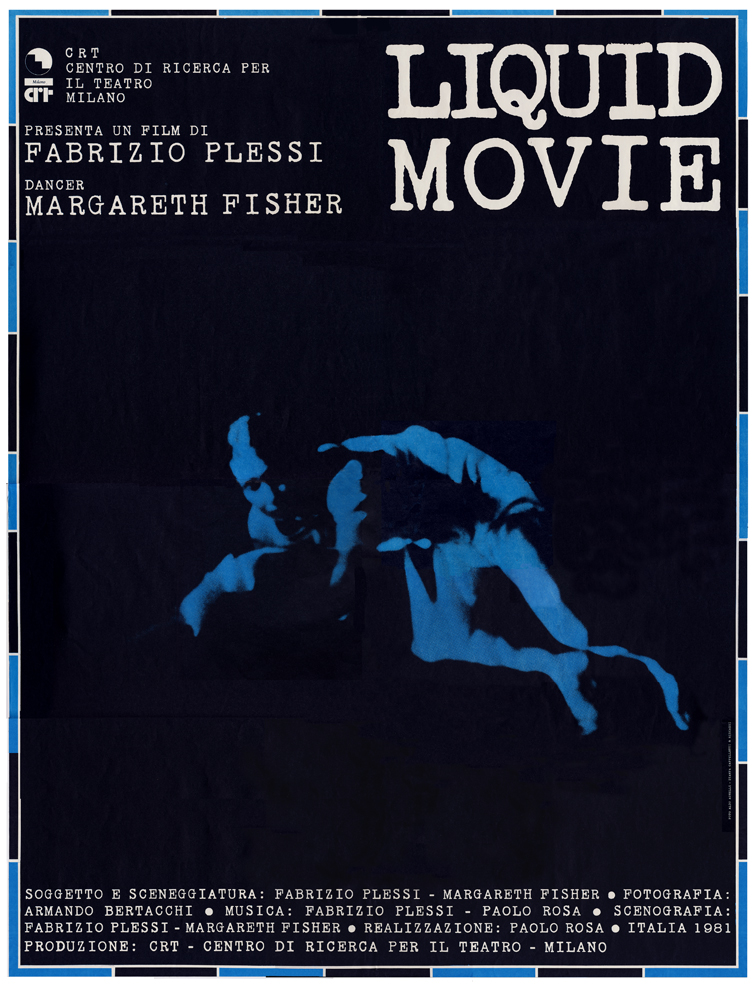 About the work
Liquid Movie is a 16mm film version of the stage work The False and True Occult performed in Milan in 1981 at the Centro di ricerca per il teatro, Milano, Italia.
Reviews
"Mostra del Cinema '81 Biennale di Venezia,"

Alberto Farassino, La Repubblica, September 10, 1981.

"In Liquid Movie water is never what it seems. The film, produced by the Center for Theater Research in Milan (whose president is Sisto Della Palma, Secretary-General of the Biennale), documents the performance of the California choreographer Margaret Fisher. She dances 'in place' straddling a mirror, her body divided in two - half solid/half liquid, half in air/half in water. In this unreal ambiance, her 'real' gestures flow with measure and exactitude while the mirrored gestures distort. Plessi appears to restrict himself to filming a twenty-minute performance with a fixed camera angle. But, in fact, the film itself is a film-mirror, a cinematic palindrone, because the second half is obtained by reversing the first half, which renders it still more elusive among the confines of reality and its mirrored reflection."
Film
Liquid Movie, an award-winning collaboration between Fabrizio Plessi, director,
and Margaret Fisher, choreographer.

More video below.
Credits
Director:

Fabrizio Plessi

Design and Script:

Margaret Fisher and Fabrizio Plessi

Choreography, Performance:

Margaret Fisher

Director of Photography:

Armando Bertacchi

Music:

Fabrizio Plessi, Paolo Rosa

Produced by:

Centro di ricerca per il teatro, Milano, Italia

Distribution:

Paolo Zenoni, Centro di ricerca per il teatro, Via U. Dini #7, 20142 Milano, Italia

Release Date:

1981

TRT:

18 minutes

Original format:

b/w 16mm film

Genres:

American Dance on Film; Experimental Short Films
Screenings and Awards
Best Experimental Film:

Mostra internazionale del cinema, La Biennale di Venezia (Italy)

Premio Marino

Milan Film Festival (Italy)

First Prize

Montreal Film Festival (Canada)

Film Festival:

Asolo (Italy)

Nuovo Cinema di Salerno:

Gli Incontri Sperimentali, Salerno (Italy)

Salsomaggiore Film Festival:

Salsomaggiore (Italy)

American Center:

Paris (France)

Film Festival di Martina Franca:

Martina Franca (Italy)

Centre Beaubourg

Paris (France)

Lyon Performance Art Performance Symposium

Lyon (France)

Festival Cinema Oberhausen

Oberhausen (Germany)

Image Forum

Tokyo (Japan)
Archival Footage
The original solo by Margaret Fisher for The False and True Occult, performed at
Dance Theatre Workshop, New York, 1983. Still image © Aldo Agnelli, 1982, CRT,
Milan, Italy.