The Letter P: The Story of Pulcinella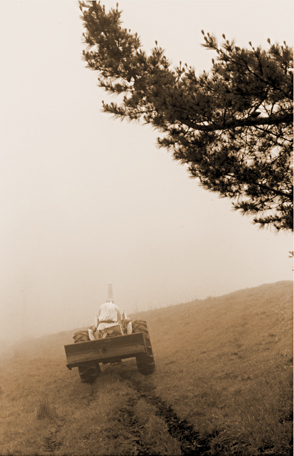 About the work
'The Letter P' is a ride with Pulcinella on a roller coaster of European history, politics, language and culture. At the beginning of the 17th century, the Italian commedia dell'arte introduced the hunchback Pulcinella for the mirth and mockery of its audience. His diasporic tale of ancient Roman curses, Marranism, and escape from fascist Italy to Argentina is recounted for the first time in an interview by the Itallian Radio Network RAI 8. The revelation of Pulcinella's Judaic roots challenges the benign public image of the commedia dell'arte and casts the shadow of modernism over its not-so-innocent origins.

Pulcinella is the last Marrano, or new Christian, who secretly worships as a Jew. He is not the descendant of Maccus from late Roman theater, nor the Neapolitan of Neapolitans as history has written, nor the Pulcinella of the ghetto tribe Tiepolo has painted, but the other Pulcinella who wears mask upon mask and whose true identity is as a descendant of Jews who emigrated from Spain to Venice via the Kingdom of Naples, only to emerge in the 17th century a favorite of the commedia dell'arte.


Video
The Story of a Pulcinella derives from Tiepolo's vision rather than Stravinsky's. It shows the 'trickster' of

commedia dell'arte

portrayed as the outcast hunchback, the dark alcoholic tragically cast into the role of entertainer and clown, and condemned to live in a ghetto of fellow-Pulcinellas. He is unable to extricate himself from the momentous burden of history.
Credits
Written, Directed, Edited by:

Margaret Fisher

Music:

Robert Hughes

Additional Music:

Cactus Needle Project

Camera:

Marjorie Franklin, Naoya Hatakeyama, Jerry Carniglia, Margaret Fisher

Pulcinella:

Gwendolyn Harper, Greg Harper, Jay Derringer, Bob Hughes, Julius Webster, Margaret Fisher

Pierrot:

Jerry Carniglia

Gianni Radio:

Gian Carlo Aquilanti

Pimpanelle:

Joyce Lightbody, Nanne Meyer, Denice Newman, Elena Rivera

Priests:

Piermario Vescovo, Tommaso Todesco

With:

Walter Zimmerman, Chryssa Udvardy

Guitar:

Marc Teicholz

Voice-Over:

Shadi Bartsch, Francesco Goretti, Miriam Weisang Misrach

Art Direction:

Jerry Carniglia

Costumes:

Jacqueline Humbert of Avant-Garter

Puppets:

Michael Bush, Margaret Fisher

Produced by:

Second Evening Art and MAFISHCO

Languages:

Italian, Venetian dialect, French, Latin

Subtitles:

English.

Release date:

1997

TRT:

25 minutes.

Genres:

Faux Foreign, Commedia dell'Arte, Experimental Video, Video Short

Dedication:

Carla Pozi Picozzi, director, Teatro L'Avogaria



Audio CD:

The music heard on this video,

Trio for Mexican Clay Flute

and

Music for Geraldine

,
is available on audio CD: Second Evening Art AG1964.
Screenings and Awards
Gold Award, JVC Tokyo Video Festival:

Tokyo, Japan

First Prize, Jewish Video Competition:

Berkeley, CA

Grand Festival Experimental Award, Berkeley Video & Film Festival:

Berkeley, CA

Bronze Award, Worldfest Flagstaff:

Flagstaff, AZ

Runner-Up, Experimental/Music-Video, SONY Visions of USA Festival:

Los Angeles, CA

Jury Award, New York Exposition of short Films & Videos:

NYC, NY

New York International Independent Film & Video Festival:

New York, Los Angeles

Videofest, Mill Valley Film Festival:

Mill Valley, CA

EuroUnderground Tour, 1988:

Krakow, Poland; Sofia Bulgaria; Wroclaw, Poland; Berlin, Germany

Independent Exposure, The Mansion Theater:

Baltimore, MD

Independent Exposure, Artists Television Access (ATA):

San Francisco, CA

Independent Exposure, The Speakeasy Cafe:

Seattle, WA

Independent Exposure, The Knitting Factory:

New York, NY

California College of Arts:

Dahl Auditorium

Judah L. Magnes Museum, Berkeley, CA:

continuous screening, Fall 1997

Jewish Video Competition at the Pacific Film Archive:

Berkeley, CA

The Squeaky Wheel, Buffalo, NY:

The Translation and Replication Series

The Virginia Museum of Fine Arts:

Richmond, VA