The Insect Dances / Il Miglior Fabbro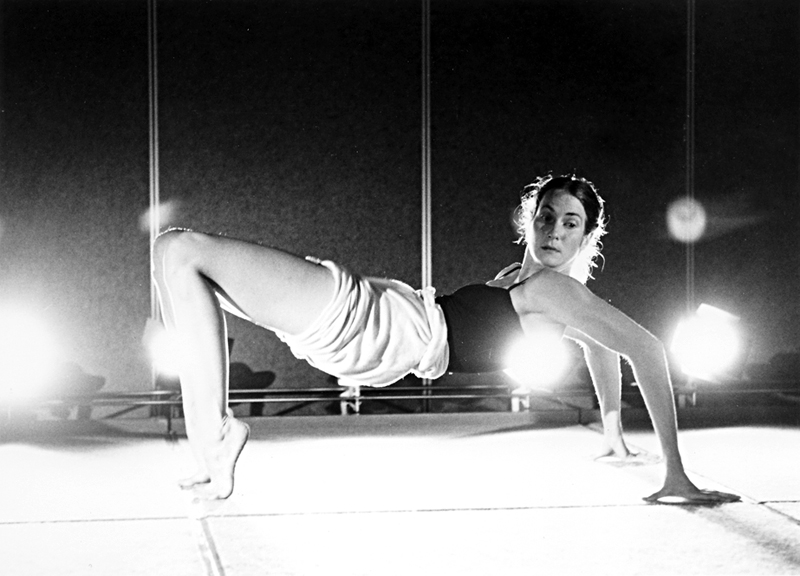 About the work
Il Miglior Fabbro (The Better Maker) (1978) is an intimate thirty-minute dance theater work for four performers, multiple projection screens, and walkie-talkies. The sound score consists of the punk rock song Feromoni (Pheromones) with music by Bob Hughes, lyrics by Margaret Fisher. The work premiered at the San Francisco International Theater Festival.

The work is based on the writings of the French entomologist Jean Henri Fabre, whose major writings between 1879 and 1907 are published as a ten-volume set under the title Souvenirs entomologiques. The English translations by Alexander Teixeira de Mattos, have placed Fabre's scientific observations within the libraries of precocious children and young adults. Charles Darwin maintained a correspondence with Fabre.

This is the second in the Italian series of performance works, Le Posizioni Veneziane. Companion pieces include Gli Insetti (1980) and Ti Sistemo Io (1983). Gli Insetti was invited to the Venice Biennale in 1980 by the San Francisco Institute of Italian Culture. A fourth work based on the tarantella was realized as a video short The Spider and The Fly.

This work and its companion pieces were unique to the field of interdisciplinary performance art. They were showcased at a diversity of art festivals such as The Ideas Festival (Telluride, Colorado), The San Francisco International Theatre Festival, Mue Danse Festival (Montreal, Canada), and CRT (Center for Research in Theater, Milan, Italy). Detailed information can be downloaded here:
Credits
Choreography:

Margaret Fisher

Sound Design:

Robert Hughes
Links to Posters
Reviews
"Symphony director, Eastbay dancer team in performance art,"

Janice Ross, Oakland Tribune, July 11, 1980.

"Symphony director Robert Hughes and Eastbay dancer Margaret Fisher are currently in the midst of a series of performances of their two newest theater pieces, 'Il Miglior Fabbro' and 'The True and False Occult.' In a piece like 'The True and False Occult,' the action is episodic and images are random, but they...click into something special....The effect is magical. 'Il Miglior Fabbro,' the second work on the program is everything 'The True and False Occult' is not. It opens with an assault on the senses, as loud, blaring music, harsh flourescent lights and the repeated crashings of a falling axxe stun the audience."



"Techno-craft,"

Allen Robertson, The Soho News, August 25, 1981 (link).

"Fisher never rushes anything; she uses time in a quiet, almost languid manner.... Her musical sense is so acute that movement and music become a single, indivisible entity. This is a true blending of media.... Integrating movement, multimedia technology, music and her own poetry, Margaret Fisher's brand of performance art is a seamless, cohesive whole."
Audio
Feromoni

by Bob Hughes

Bob Hughes on synthesizer and vocals, Margaret Fisher, vocals

Glenn Frendel on electric guitar; Jeremy Merrill on French horns

Jeff Neighbor on electric bass; Floyd Cooley on tuba; Ron Rhoades on drums

Herbert's Babies, original version for French horn and bass: available on
Performance History
Preview:

MAFISHCO Studios, Emeryville, CA, August, 1979

Preview:

Arts & Sciences Festival, Telluride, CO, September 15, 1979
San Francisco International Theatre Festival, CA, July 2-12, 1980
Centro di ricerca per il teatro, Milan, Italy, March 4-8, 1981
Out-of-Towners series, Dance Theatre Workshop, New York, August, 1981
American Theatre Lab, Dance Theatre Workshop, New York, August, 1982
American Inroads, New Performance Gallery, San Francisco, CA, March, 1983
Tokyo American Center, Tokyo, Japan, February, 1984.
"Mutating Dance." Mue Danse Festival, Montreal, Canada, March 10-12, 1989.