Splitting, Parts i-ix (1977-1982)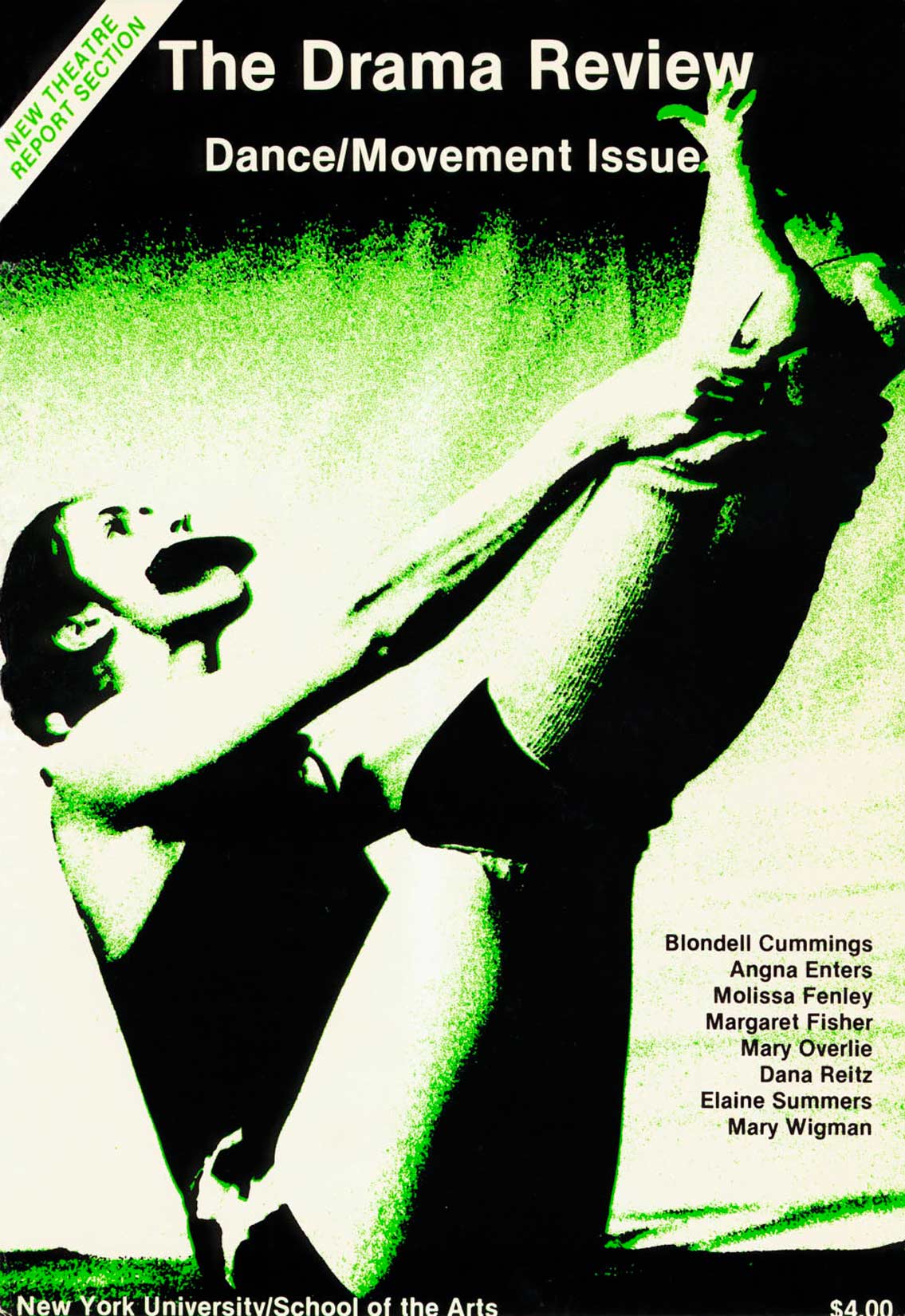 More about the work
In Part 5 (narrative with beginning, middle, and end) of Splitting, the dancer employs a circular breathing technique to control the complex sound of the harmonica throughout the extended duration of a crescendo from pianissimo to fortissimo, allowing one to hear a rich spectrum of ever-changing harmonic relations against the changing tempo of the inhale and exhale. The experience mirrors the earlier sustain of gestural combinations against the changing metrics of the dance. When the sound returns to pianissimo in a similar manner and the dancer removes the harmonica from her mouth, the silence fills and shapes the space for the final sections of the work.
Movements
Part 1:

hieroglyphs

Part 2:

syntax

Part 3:

phrases

Part 4:

dialect

Part 5:

narrative

Part 6:

character

Part 7:

sign language

Part 8:

variant

Part 9:

notation
Credits
Choreography:

Margaret Fisher

Sound:

Part 5, mouth accordian played by the performer; Part 6, Field recording, Australian crickets.
Reviews
"East and West Meet on Stage,"

Robert Palmer, The New York Times, May 16, 1978.

"[Fisher] also performed an eight-part suite, Splitting, that involved an extensive vocabulary of body movements. It was a fascinating work, for while the succession of movements seemed to have no linear organizing principle, it maintained a coherent flow and built up a kind of rhythmic drive, analogous to the sort of thing one finds in contemporary jazz that achieves momentum without recourse to articulated metrical divisions. Miss Fisher evidenced a beguiling personal style; it would be nice to see more of her work on the East Coast."




"Dance, Margaret Fisher in Three Pieces,"

Jennifer Dunning, The New York Times, August 16, 1981 (link).

"Performed in silence, with a slyly funny assortment of clothes...Splitting [for solo dancer] is a series of five movement studies of increasing complexity and richness...a cluster of gestural notations in an evolutionary development of movement language. This particular dance technique is called cellular movement and refers to the possibility of direct articulated communication between the tiniest divisions of the body. Lest that sound like run-of-the-mill experimental solemnity, what Miss Fisher does with three chickens and a harmonica is hilarious in her typically offhand way. . . ."




"An Obsessive miniaturist teases, baffles,"

Mindy Aloff, The Willamette Weekly, Portland, OR, May 2-8, 1978 (download).

"Fisher seems to invent rhythm as she goes. Her sense of how to show it to us--how to group her phrases into 'sentences' and her sentences into 'paragraphs'--gives her dancing the character of speech without its telling us any news more explicit than, 'I am dancing.'...Fisher would be a striking presence were she merely to walk around the room, and there were moments when she engaged in repetitive motion that simple. At one point she methodically splashed her face with water about 30 times.... Later, an entire section consisted of her carefully scratching her left ankle with her right foot. But these obsessions functioned as widely spaced rests between some of the most marvelous episodes of small-scale dancing we are likely to see all year."
Performance History
Premiere:

Cat's Paw Palace of the Performing Arts, 1977.
Dartington College of the Arts, Totnes, England, 1977.
VIIeme Festival International de Musique Experimentale, Bourges, France, 1977.
1750 Arch Street, Berkeley, CA, 1977.
In Celebration of Loie Fuller, Fine Arts Museums of San Francisco CA, 1978.
The Floating Museum of Lynn Hershman, Global Space Performances, San Francisco MOMA, 1978.
Open Gallery, "Homage to Eros," Eugene OR, 1978.
Moving Space, Portland OR, 1978.
The Western Front, Vancouver, Canada, 1978.
Experimental Intermedia Foundation, New York, 1978.
The Kitchen, New York, 1978.
Dov'è la tigre Gallery, Milan Italy, 1978.
80 Langton Street, San Francisco CA, 1979.
Eventworks, Festival of Performance Art, Boston MA, 1979.
Maryland Institute of the Arts, Baltimore MD, 1979.
Sheldon Jackson College, Sitka AK, 1980.
La Biennale di Venezia, Venice, Italy, 1980.
Texas Tech University, Lubbock TX, 1980.
Centro di ricerca per il teatro, Milan, Italy, 1982.
American Theatre Lab, Dance Theatre Workshop, NY, 1982.
Kunsthalle, Basel, Switzerland, 1982.
Tokyo American Center, Tokyo, Japan, 1984.