The False and True Occult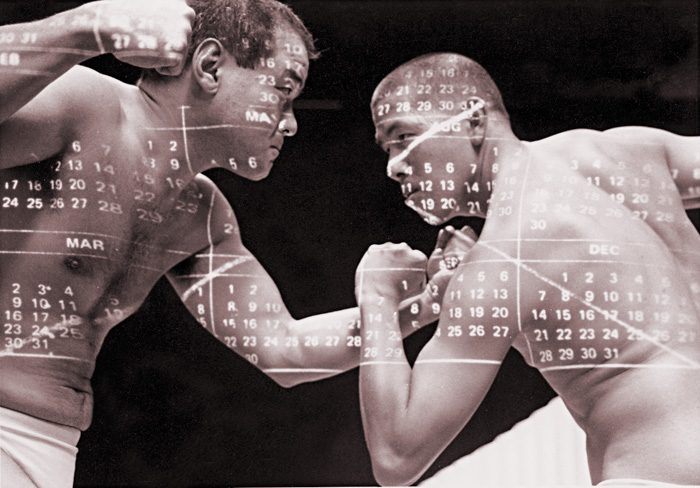 About the work
The True and False Occult proposes three new relationships to time and space to be realized within the Japanese "floating world":
Toward a Metric Calendar
Toward Zero Gravity Environments
Toward the Elimination of the Perspectival Horizon Line
Experiments with floating heads on a pilgrammage to Mt. Fuji, a swimmer in a mylar pool, and calligraphy exercises for the hands create confusion between two- and three-dimensional space. Clusters of words move like the corps de ballet across the corrugated terrain of Mt. Fuji. A dancer spells out words with the hand alphabet at lightening speed. Above her head the light spells out ABRACADABRA in a spastic rhythm matching that of her hand. Dance proceeds on the horizontal planes, the dancers suspended one moment in space, another, in water. A teapot above pours words, not liquid, along an arc that defies the gravity of the situation. The logic of space and language is turned on its head.
This work and its companion piece The True and False Occult were unique to the field of interdisciplinary performance art and showcased at a diversity of art festivals such as New Music America (San Francisco), New Dance USA (Minneapolis), The Ideas Festival (Telluride, Colorado), The San Francisco International Theatre Festival, Neofest (Performance Art, La Jolla), CRT (Center for Research in Theater, Milan, Italy) and a variety of art schools. Fisher received a one-year Japan-U.S. Artist Exchange Fellowship from the Japan-U.S. Friendship Commission following a U.S. tour of this work. More information can be downloaded here:
The Drama Review (Dec. 1980):
Gail Bochenek, "Two Performance Pieces by Margaret Fisher"
San Francisco Bay Guardian:

Rita Felciano, "Artful Intellect" September 20, 1989
Credits
Choreography, Set Design:

Margaret Fisher

Assistant Choreographer:

Janet Jaffe

Music:

Music for the Cincinnati Center, Sonitudes, Ostinato for Tens, and Water Images II by Robert Hughes; Etenraku by the Kyoto Imperial Court Orchestra with overlaid electronic tracks by Robert Hughes; Nagare (Water Images) by the Azuma Kabuki Musicians.

Lighting:

Michael Bush, Larry Neff

Performers:

Mia Borgatta, Beth Fein, Margaret Fisher, Janet Jaffe, Robert Saito, Deborah Slater, Toyoji Tomita, Susanna Quaranta, Francesca Limoli

Projection transport systems, rotation tables, and other gizmos:

Michael Bush

Teapot, design and fabrication:

Beth Fein
Archival Footage
Excerpt, The False and True Occult, at Dance Theatre Workshop, New York, 1983.
Music by Robert Hughes. Still image © Aldo Agnelli, 1982, CRT, Milan, Italy.

Audio
The True and False Occult:
Music for the Cincinnati Science Center
by Robert Hughes; Peggy Luchesi and Jack Van der Wyk, percussion, released on the Second Evening Art label audio CD (AG1964)
purchase
The False and True Occult:
Sonitudes, movement 4, Caprice
by Robert Hughes; Janet Milard, flute; Loren Brown, cello; 1750 Arch Records vinyl (S-1760) and Second Evening Art audio CD (AG1964)
purchase
Performance History,
The False and True Occult
Preview:

Centro di ricerca per il teatro, Milan, Italy, March 1981.

Preview:

Dance Theatre Workshop, NYC, August 1981.

Premiere:

Mills College, Oakland, CA, February, 1982.
Lake Placid Center for the Arts, Lake Placid, NY, May, 1983.
Teatro L'Avogaria, Venezia, Italy, March, 1989 (excerpts).
American Theatre Lab / Dance Theatre Workshop, NYC, June, 1983.
Sushi Gallery's Neofest of Performance Art, La Jolla Museum, La Jolla, CA, 1987 (excerpts).
The Lab, San Francisco, CA, Sept., 1989 (excerpts)