Under the Bull's Eye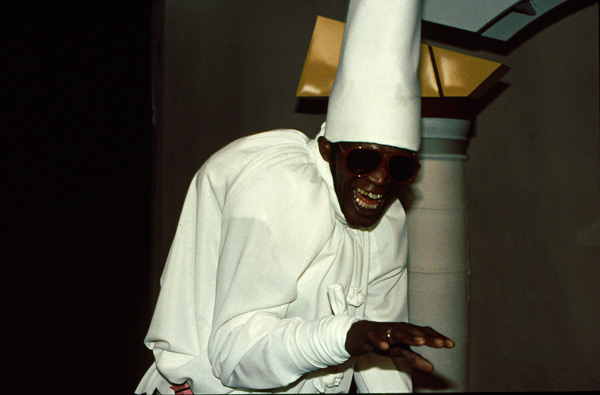 About the work
Under The Bull's Eye is a 16mm film of the evening-length stage work Against Nature, commissioned by the Jerome Foundation for Dance Theatre Workshop in New York.
Reviews
"Multicultural Mystifications,"

Anthony Reveaux, Artweek, August 24, 1985.

Under The Bull's Eye "... provided Toyoji Tomita with the context in which to give a rare and powerful performance. Accompanied by Hughes's hypnotically compelling score that layered tracks on which his playing of a Korean piri sounded like the wailing of six weasels in heat, costumed and made-up to resemble a Japanese ghost character, Tomita crouched, grinning into the lights, and then was overwhelmed by his passions.... At no time did the explicit connotations detract from the gripping continuity or terrible dignity of Tomita's presentation of anguished compulsion."



"Margaret Fisher in Three Pieces,"

Wynne Delacoma, The Chicago Sun-Times, March 1, 1986.

"It may be one of the stranger evenings you've spent in the theater. But anyone hungry for highly crafted art should head over to MoMing Dance & Arts Center tonight or tomorrow. Thanks to MoMing's membership in the National Performance Network, California-based Ma Fish Co is in town. Thursday's performance was a glimpse at a surreal universe too seldom glimpsed in Chicago's mainstream theaters."
Film
The Dance and the Story of Ji Ming. Toyoji Tomita as Tokyo Rose and Julius Webster
as Pulcinella in the seventh circle of Dante's Inferno.

Credits
Director:

Margaret Fisher

Music:

Robert Hughes

Director of Photography:

David Heinz

Lighting:

Larry Neff

Art Direction:

Jerry Carniglia

Costume Design:

Jacqueline Humbert

Makeup:

Janice Campbell

Performers:

Beverlee Blair, Janet Jaffe, Ethel London, Toyoji Tomita, Julius Webster

Narration:

Margaret Fisher

Produced by:

International Performance Network and MAFISHCO

Funding and in-kind support:

Nettie Marie Jones Performing Arts Fellowship, National Endowment for the Arts, Jerome Foundation, Zellerbach Family fund, California Arts Council, The Princeton Group, Gene Fisher, SRO Labs, Film Arts Foundation, Monaco Lab, Emeryville Artists Cooperative, California College of the Arts, Mills College

Release Date:

1987

TRT:

27 minutes

Original format:

16mm color film

Genres:

American Dance on Film; Film Short; Camp Film; Butoh; Films about Dante
Screenings and Awards
Mills College Littlefield Concert Hall:

Songlines Series, Oakland, CA

The Lab Dance Festival:

100% Concentrated Dance, San Francisco, CA

The San Francisco Exploratorium:

Speaking of Music and Artist in Residence Programs

University Art Museum Theater, Pacific Film Archive:

Private Screening, Berkeley, CA