The False and True Occult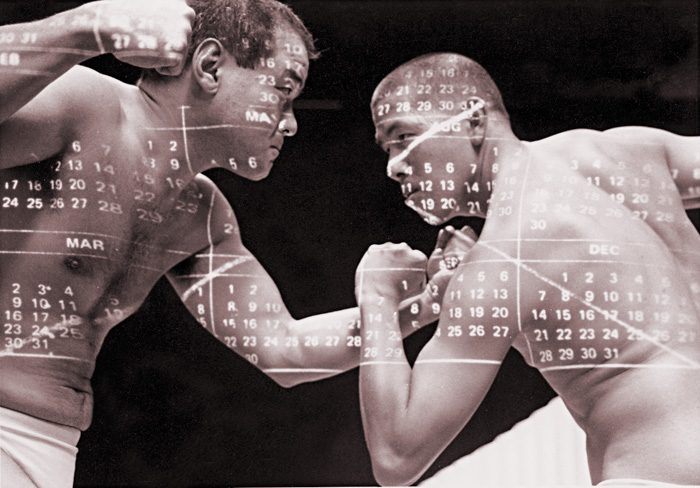 About the work
The True and False Occult proposes three new relationships to time and space to be realized within the Japanese "floating world":
Toward a Metric Calendar
Toward Zero Gravity Environments
Toward the Elimination of the Perspectival Horizon Line
Experiments with floating heads on a pilgrammage to Mt. Fuji, a swimmer in a mylar pool, and calligraphy exercises for the hands create confusion between two- and three-dimensional space. Clusters of words move like the corps de ballet across the corrugated terrain of Mt. Fuji. A dancer spells out words with the hand alphabet at lightening speed. Above her head the light spells out ABRACADABRA in a spastic rhythm matching that of her hand. Dance proceeds on the horizontal planes, the dancers suspended one moment in space, another, in water. A teapot above pours words, not liquid, along an arc that defies the gravity of the situation. The logic of space and language is turned on its head.
This work and its companion piece The True and False Occult were unique to the field of interdisciplinary performance art and showcased at a diversity of art festivals such as New Music America (San Francisco), New Dance USA (Minneapolis), The Ideas Festival (Telluride, Colorado), The San Francisco International Theatre Festival, Neofest (Performance Art, La Jolla), CRT (Center for Research in Theater, Milan, Italy) and a variety of art schools. Fisher received a one-year Japan-U.S. Artist Exchange Fellowship from the Japan-U.S. Friendship Commission following a U.S. tour of this work. More information can be downloaded here:
Credits
Choreography, Set Design:

Margaret Fisher

Assistant Choreographer:

Janet Jaffe

Music:

Music for the Cincinnati Center, Sonitudes, Ostinato for Tens, and Water Images II by Robert Hughes; Etenraku by the Kyoto Imperial Court Orchestra with overlaid electronic tracks by Robert Hughes; Nagare (Water Images) by the Azuma Kabuki Musicians.

Lighting:

Michael Bush, Larry Neff

Performers:

Mia Borgatta, Beth Fein, Margaret Fisher, Janet Jaffe, Robert Saito, Deborah Slater, Toyoji Tomita

Projection transport systems, rotation tables, and other gizmos:

Michael Bush

Teapot, design and fabrication:

Beth Fein
Reviews
"Margaret Fisher in Three Pieces," Jennifer Dunning, The New York Times, August 16, 1981 (link). "There's something strange but very potent going on at the American Theater Laboratory this weekend. Up the stairs, through a corridor and on to your seat in the little loft theater, and suddenly you are plunged into a bizarre but magical world...a place very like the interior of a Joseph Cornell box in its simplicity, playfulness and inviting privacy. Miss Fisher is a one-of-a-kind choreographer. Hers is a vision informed by the kind of innate purposefulness of things in nature. And the sources to which her dance refers have been absorbed to the point where the dance is a seamless weave of flowing, layering images from all the arts."
"Zero Gravity and the Image Bank," James Dillon, Dance Magazine, October 1983. "Exploration of movement in space on the horizontal plane is an unusual and striking aspect of Fisher's work. The inception of these movements was [Fisher's] exploration of the effects of horizontal posturing upon the viewer's perceptual processes seven years ago when she decided there was nothing strange in developing choreographic material for a body positioned solely on a horizontal plane."
"Symphony Director, Eastbay Dancer Team in Performance Art." Janice Ross, Oakland Tribune, July 11, 1980 "It opens on a strange set of a huge, white triangle studded with small Japanese fans.... [Fisher] directs a pattern of [projected] text across the triangle set.... The efffect is magical, suggesting a patterned and rhythmic base to this silent text. Later, another little block of words enters the space in the same way, just as a corps of dancers might repeat the same entrance path in a classical ballet."
"Ma Fish Co at the New Dance America Festival, Minneapolis," Janice Ross, The Tribune, October 25, 1981. "One of the quietest but most persuasive New Dance participants was East Bay choreographer Margaret Fisher. Fisher performed her "The True and False Occult," a piece that demonstrates a delicate and introspective sensibility that is quite at odds with the showy and easy eclecticism of many other New Dance choreographers."
"Dance Steps," Darcy Hall, Fusion Arts Review, June 16-30, 1983. "It was the aura of tension, of pent-up energy that has no greater release than the flick of a wrist or the unfolding of a fan, that provided the greatest interest of the evening in a series of dreamlike tableaux."

Audio
The True and False Occult:
Music for the Cincinnati Science Center
by Robert Hughes; Peggy Luchesi and Jack Van der Wyk, percussion, released on the Second Evening Art label audio CD (AG1964)
The False and True Occult:
Sonitudes, movement 4, Caprice
by Robert Hughes; Janet Milard, flute; Loren Brown, cello; 1750 Arch Records vinyl (S-1760) and Second Evening Art audio CD (AG1964)
Performance History
Preview:

MAFISHCO Emeryville studios, 1980.

Premiere:

San Francisco International Theater Festival, Intersection, San Francisco, July, 1980.
Teatro L'Avogaria, Venezia, Italy, March, 1981 (excerpts).
Centro per la ricerca per il teatro, Milan, Italy, March, 1981 (excerpts).
New Music America, San Francisco, CA, June, 1981.
American Theatre Lab / Dance Theatre Workshop, NYC, August, 1981 (excerpts).
New Dance USA, Minneapolis, MN, October, 1981.
Mills College, Oakland, CA, February, 1982.
California College of Arts, Oakland, CA, March, 1982. (excerpts)
Maryland College of the Arts, Baltimore, Maryland, June, 1983
Lake Placid Center for the Arts, Lake Placid, NY, May, 1983.
Maryland College of the Arts, Baltimore, Maryland, June, 1983
American Theatre Lab / Dance Theatre Workshop, NYC, June, 1983.
Sushi Gallery's Neofest of Performance Art, La Jolla Museum, La Jolla, CA, 1987.
The Lab, San Francisco, CA, Sept., 1989